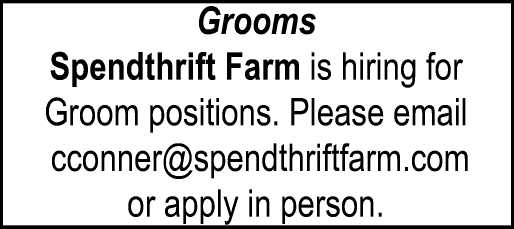 Premier NY Breeding Farm
Must have experience and be comfortable in all aspects of breeding farm work, including handling mares and foal, working in the breeding shed, mucking, feeding/watering, and turnout. Competitive pay and housing available. Please email resume to questroyalnorth@gmail.com.
When replying to a Blood-Horse Box number, please send to:
Box BH:______
c/o The Blood-Horse
P.O. Box 919003
Lexington, KY 40591-9003
Didn't find what you're looking for?
Try The Blood-Horse Source, the Thoroughbred industry's most comprehensive online directory.